Parts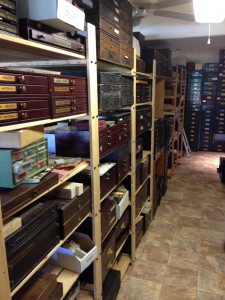 Selling parts is not a simple task. About 5 years ago I attempted to create an eCommerce site where I was going to catalog the parts so you could just pick, click & pay.  That didn't work because I have a lot of parts and there is simply no way to catalog them all.  The photo at the right is one of 4 rows of just American watch parts.
So after several years of trying ideas that I could manage without a vast staff of employees I settled on the idea of having people just ask for what they need and I'll find them and tell them what is costs.  So here is how it works;
American Watch Parts:  Need the manufacturer, size, grade and s/n of the movement along with the manufacturers description of the part, and if possible using their part number.  Once you have that information you can inquire.
Swiss Watch Parts:  I need the maker, size, caliber and if absolutely possible a picture of the movement.  Swiss watch parts are identified by both names and numbers that conform to the standards created for accurate Swiss part identification.  Once you have that information you can inquire.
Other types of Parts (Clock, etc):  Maker and approximate manufacture date is a good place to start, and depending on what you seek (mainsprings, crystals, etc) the more information you can provide, the better.
I have a vast array of factory and ebauche system parts (C & E Marshall, Bestfit, Newall, etc) as well as any mainspring you can possible imagine.
Here are the watch parts I have on eBay right now: